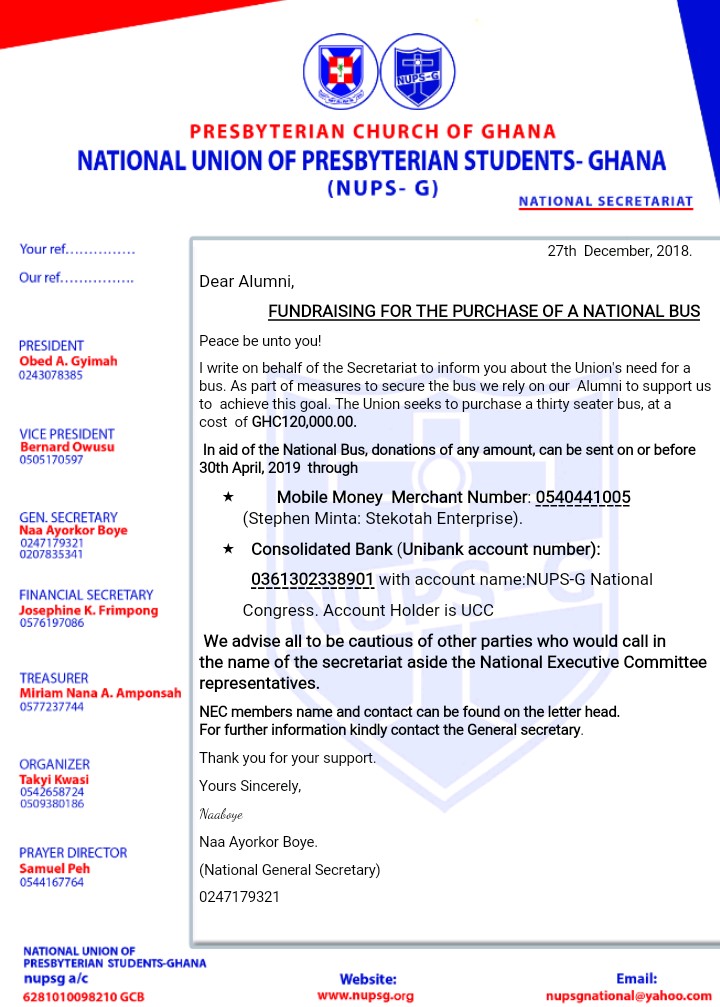 27th December, 2018. Dear Alumni, FUNDRAISING FOR THE PURCHASE OF A NATIONAL BUS Peace be unto you!
I write on behalf of the Secretariat to inform you about the Union's need for a bus. As part of measures to secure the bus we rely on our Alumni to support us to achieve this goal. The Union seeks to purchase a thirty seater bus, at a cost of GHC120,000.00
In aid of the National Bus, donations of any amount, can be sent on or before 30th April, 2019 through
• Mobile Money Merchant Number: 0540441005 (Stephen Minta: Stekotah Enterprise).
• Consolidated Bank (Unibank account number): 0361302338901 with account name:NUPS-G National Congress. Account Holder is UCC
We advise all to be cautious of other parties who would call in the name of the secretariat aside the National Executive Committee representatives. NEC members name and contact can be found on the letter head. For further information kindly contact the General secretary.
Thank you for your support. Yours Sincerely, Naaboye Naa Ayorkor Boye. (National General Secretary) 0247179321